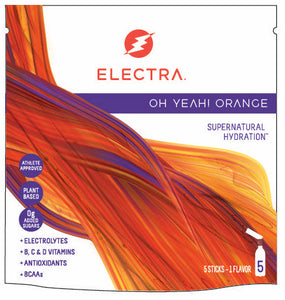 It's a fan favorite for a reason. That's Oh Yeah! Orange with its sassy tangy deliciousness that makes you go OH YEAH! Just mix it into an 8 oz glass or bottle of water.
12 packets per pouch. 10g serving size.
Ingredients:
Fructose (Fruit Sugar), Coconut Water Powder, Natural Flavors, Natural Sugarcane Sweetener (Erythritol, Sugarcane Derived Reb-M, Chicory Root Fiber, Plant Derived Electrolytes), Citric Acid, Malic Acid, Ascorbic Acid, Watermelon Juice Powder, Branch Chain Amino Acids, Calcium Citrate, Natural Color, Sea Salt, Magnesium Citrate, Niacinamide (Vitamin B3), Vegan Vitamin D3, Cyanocobalamin (Vitamin B12), Pyridoxine Hydrochloride (Vitamin B6).
Allergens: 
Contains Tree Nuts (Coconut Water)